Owner/Head Trainer: Bethany Tracy
Bethany has over 10 years of experience training dogs

Owner and founder of Wasatch Canine Camp, LLC

Head Trainer for Wasatch Canine Camp, LLC

Certified as an E-Touch ™ dog trainer in 2007  by Heather Beck


Studied with

Heather Beck

, who currently works with and trains with Cesar Millan, the "Dog Whisperer"

Was taught Pack to Basics ™ by

Chad Mackin

, former President of the International Association of Canine Professionals (

IACP

)

Has studied Dog Psychology and Pack Mentality


Skilled with Clicker training

Approved Canine Good Citizen Evaluator

Bethany is a Professional level member of the

IACP

Trained dogs featured in the movie "

The Kane Files

" 

Head Trainer/Coordinator for Home Depot's

Chem-Dry commercial

Featured in an article in The Daily Herald –

click here

to read the article

Has over 5 years experience breeding dogs and raising litters of puppies (

www.wccberners.com

)

Has attended 5 workshops held by Chad Mackin & Heather beck focusing on how to deal with difficult and aggressive dogs

Both Bethany and Alan Tracy had the amazing opportunity to attend a workshop held by 

The Monks of New Skete

 (the authors of "

The Art of Raising a Puppy

" & "

How to be Your Dog's Best Friend

") to learn all about their breeding program and how they exactly raise, handle and socialize their puppies.  They now almost exactly follow their puppy raising program to give you the best socially and mentally well rounded started puppies possible.

Has completed Cesar Millan's

Training Cesar's Way Fundamentals 1

course – Bethany had the amazing opportunity of spending 5 days at Cesar Millan's Dog Psychology Center where she learned from him daily all about dog psychology, pack mentality and all about his training philosophy.

Skilled in The Art Of Attention taught by Duke Ferguson

Attended Nelson Hodges' Relationship Based Behavior Modification seminar which focused on canine behavior and body language.  Nelson Hodges specializes in working with wolves and wolf hybrids, he also lived with wolves for 2 years in the wild.  He was absolutely amazing to learn from!
When Bethany was young she knew she needed to do something with animals.  When she was 14 she got her first dog Jake, a German Shepherd.  She had so much fun training him and working with him.  He helped her realize that working with dogs was where she belonged.  After working every job she could in high school to save up to learn how to become a trainer, she finally was able to become certified shortly after she graduated high school by Heather Beck.  Bethany immediately opened Wasatch Canine Camp in the fall of 2007.  She never imagined that her small dream of becoming a trainer would grow into such a large company with many staff and a busy training center being run full time!  She is beyond grateful for every opportunity she has had to learn and grow to help gain the most knowledge possible to be able to share that knowledge with her staff and her clients.  Bethany's goal when working with dogs is to communicate with them in the most clear and gentle way possible so that she can help them become the best dog they can be!  
________________________________________________________________________________________________________________________________________________________________________________________
Co-Owner/Trainer: Alan Tracy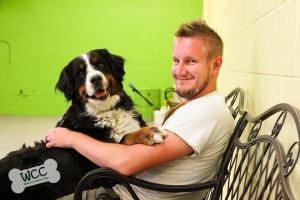 Alan and Bethany Tracy have been married since 2009. Alan has been taught everything that Bethany knows about dog psychology, behavior, training, socialization and more.  Alan and Bethany run Wasatch Canine Camp, LLC full time. Alan has become an excellent dog trainer with Bethany's help. He currently works with all of our board and train dogs, helps out during Pack to Basics classes and group obedience classes, and attends private consultations with Bethany.  Alan has a very calm and gentle energy. Almost all the dogs we work with gravitate around him because of how soft his energy is.  Alan has attended many dog training seminars, including K9 Lifeline's 3D Workshop: Dealing with Difficult Dogs, Marc Goldberg's Intro to Forcefree Method of Dog Training, The Monk's Of New Skete Art of Living with Your Dog seminar, and many more. He, along with Bethany, is constantly learning and attending different seminars and conferences, always learning as much as he can about dog training and psychology.
________________________________________________________________________________________________________________________________________________________________________________________
Trainer: Lynnae Chilcott
Lynnae initially started coming to our Socialization Classes with her dog, Charlie.  When we put out an announcement that we needed help during our socialization classes, Lynnae jumped at the opportunity and started helping us run classes.   As time went on, she started shadowing Bethany and Alan, helping out with board and trains, group classes, clients, etc.  She has attended many seminars such as K9 Lifeline's 3D Workshop that focuses on dealing with difficult and aggressive dogs, Chad Mackin's Behavior Troubleshooting workshop, Brittany Brauer & Sarah Dixon's Puppy Paradox seminar, and many more.  She has also been taught just about everything that Bethany and Alan know.  She is now one of our full time trainers and is really turning into a natural when it comes to working with dogs.  She has a very soft and patient energy.  Dogs tend to gravitate towards her and trust her very quickly.