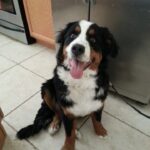 Avy is the newest attendee for our 4 week obedience camp program. She is a 7 month old bernese mountain dog, and is actually out of our last berner litter (www.wccberners.com). She is a sweet pup that needs to learn lots of manners and master her obedience. I'm excited to have one of my own puppies here going through one of our programs!
The following two tabs change content below.
Owner of Wasatch Canine Camp. Experienced, Professional, and Certified Dog Trainer.
Latest posts by Wasatch Canine Camp (see all)