The Kickstart Camp program is a nice short and sweet program for the dogs that are already pretty well rounded and decently behaved but just need a little bit of help to become the best they can be.  This program is a 2-3 week long program and is $1895.  Kickstart Camp is ideal for dogs over 6 months old with little to no behavior issues.  It's a great program that heavily focuses on leash work, basic obedience, and basic manners to create a very well rounded dog.  It's also a great program if you're wanting to work towards therapy dog work or the Canine Good Citizen test with your dog.  In this program we go over: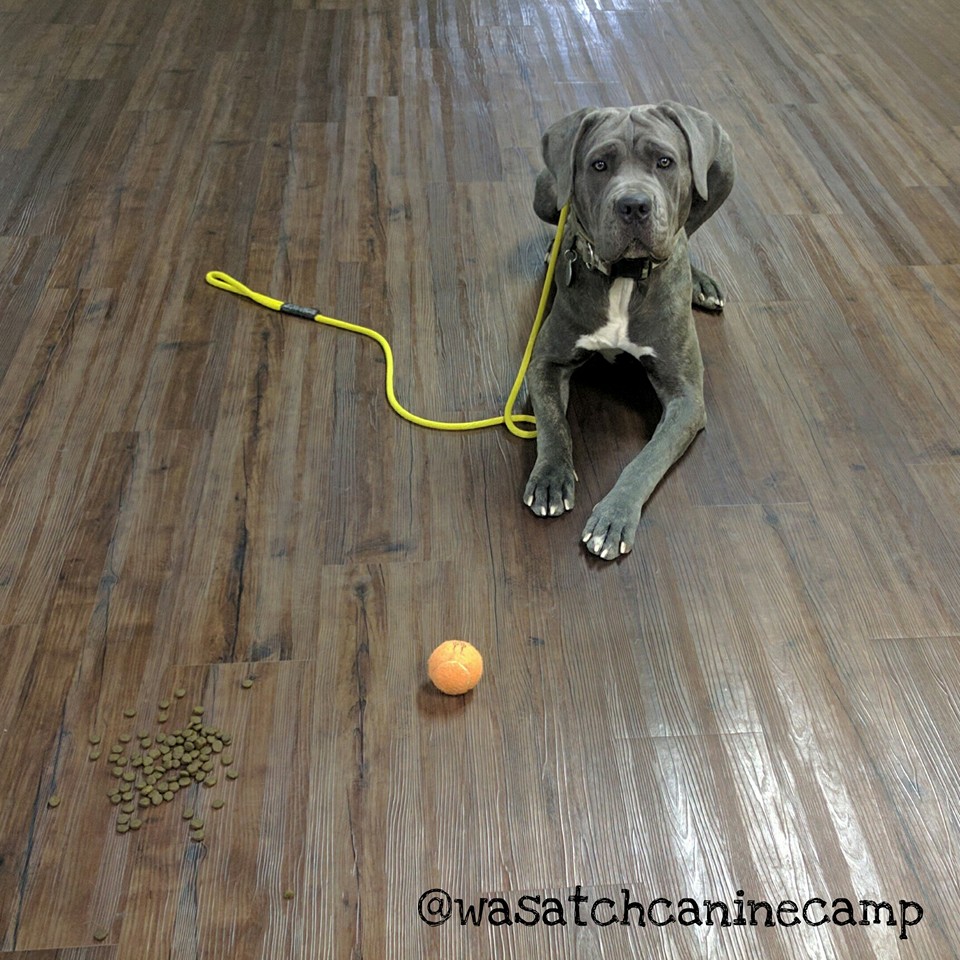 Foundation obedience such as sit, down, stay, place, heel, and come around mild to moderate distractions

We will use your dog's food in combination with positive reinforcement, as well as any other training tools that work best for your dog, to create a fun, healthy level of focus and motivation.  This is called The Art of Attention.

The importance of proper nutrition for your dog, and how proper nutrition is necessary for your dog to be healthy both mentally and physically.

We will give you a structured, fun, reasonable training schedule for your dog to follow after they return home, to help them bring everything they learned with us home.

The importance of crate training and how it can be extremely beneficial to creating a calmer, happier dog.

Manners & boundaries around the house and towards people and dogs

We will use a pack of balanced dogs to help your dog remember how to be a dog again.

We will teach you about dog psychology and pack mentality to help you understand how to communicate with your dog better, and how to read their body language better.

We can teach your dog to walk on the treadmill (if you have one).

We can work on the Canine Good Citizen steps to help prep your dog for the CGC test (by request)

We will help teach your dog patience and impulse control to help them default to calm around high distractions
While your dog is here we will include them in a lot of socialization, pack walks, focus work, agility, treadmill training, obedience training, distraction training, Pack to Basics ™ and more!  The kickstart camp program is accommodated to what you need your dog to improve on and learn.  Every dog will experience a different kickstart camp than the dog before them.  We are very flexible with what we can teach your canine friend, so please let us know exactly what you would like your dog to improve on or learn!
When working with any dog, we always look at the dog as a whole, rather than just focusing on one specific issue (barking, potty training, etc).  We combine the use of food, proper motivation, and positive reinforcement with proper structure, leadership, proper nutrition,and the right training tools that work best for your dog to create an all around healthy, structured, happy life for all of the dogs (and their owners) that we work with.
Touch up training for any of our Board and Train programs is FREE.  As long as you are following everything that we've taught you at home and are being as consistent as possible with your dog's training, we are always happy to take back and continue training your dog. Training with us is not just a one and done kind of deal, we're here for you whenever you need us! Please note that touch up training is only available to Board and Train program attendees, and is entirely based on our availability/current schedule.  You must notify us before hand if you would like to schedule touch up training, it is not something that we can do without prior notice and our approval.  For all other programs (private training, group classes, etc), we offer our monthly client practice classes, if you need to schedule touch up training or need more details in regards to practice classes, contact us today!

*Any dogs that set foot in our training facility must be up to date on their vaccines. Puppies must have at the very least their first set of vaccines. Proof of vaccines in required before any of our services can be provided, including training, group classes, boarding, and daycare. If you have any questions in regards to vaccines, please let us know!

*All training programs come with our lifetime support guarantee! We are here to assist you for the life of your dog, answering questions you may have via phone, text message, or email. We care about the success and happiness of you and your pup, and do our best to be there for you when you need us.
__________________________________________________________________________________________________________________________________________
When your dog comes to stay with us for Boarding or a Board and Train program:
Bring enough food for the entirety of their stay with us. Please make sure that the food is either in the original bag, or in some kind of sealed container/ziplock bag, and that their food is labeled with their name and the amount of food that they typically eat each day. If you feed a raw diet, please make sure that it is in sealed zip locks or bags that do not leak.

Make sure your dog has a collar on during their stay, and please bring them in to us on a clip leash or slip leash, no retractable leashes (unless you absolutely don't have anything else).

Bring their most up to date vaccination records.

Make sure your dog has proper tags on their collar (name, contact information, etc)

If your dog is on any kind of supplements or medications, please bring them and provide written instructions giving amounts required and frequency that they need to be given. If your dog is not okay with taking their medication orally or if it is placed in their food, please provide something to assist in giving it to them (peanut butter, Pill Pockets, lunch meat, etc).

If you have any toys or bones that your dog enjoys, you're more than welcome to bring them for your dog.

We can provide bedding for your dog, we prefer that you do not bring bedding with you. Typically if accidents happen, bedding sometimes can become misplaced in the laundry, we don't want this to happen. We provide blankets/towels for smaller dogs/puppies (as long as they do not destroy them), and raised cots for medium to larger size dogs that stay with us.
__________________________________________________________________________________________________________________________________________
**We accept cash, check, or credit card.  Payments via credit card are higher due to credit card fees**
**All training programs and program prices subject to change at any time for any reason**