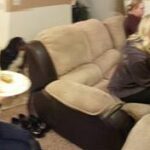 Do you see Declan in the far right of this picture curled up on his dog bed? Well we had a girls night last night, and I brought Declan upstairs to do some distraction "place"training with him. Lots of people, food, other dogs, etc. He stayed on his place for over two hours very calmly and quietly. He's such a good boy! We can help your dog do this too!

The following two tabs change content below.
Owner of Wasatch Canine Camp. Experienced, Professional, and Certified Dog Trainer.
Latest posts by Wasatch Canine Camp (see all)