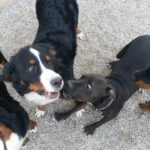 Kao the dog aggressive Pitbull we have for Boot Camp is doing awesome around the other dogs! He has no problems drinking with the others. He and Dolly have become goofy friends. If you have a dog with similar aggression issues, we'd love to help!
The following two tabs change content below.
Owner of Wasatch Canine Camp. Experienced, Professional, and Certified Dog Trainer.
Latest posts by Wasatch Canine Camp (see all)