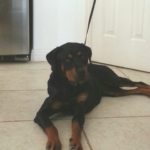 Malibu is a super sweet and friendly Rottweiler that is looking for a forever home. She was found as a stray in New Mexico and was then transported here so we could foster her until she finds a new home. We think she is about 2 years old. She has been spayed and is up to date on her vaccines. She is such a loving dog, she just wants to sit by you and get pets. She is super snuggly and has a hard time holding her licker (she constantly wants to lick you! We are working with her to minimize the licking). She loves any and all people, including the few kids we have had her around (we haven't tested her around toddlers yet). She gets along great with social large breed dogs, but cannot live in a home with small dogs or cats. She is just a sweet girl, very willing to please. I would recommend a home that has experience with large hard-headed breeds and can give her the guidance she needs to become and even more amazing dog.
We have started her on crate training, and she is doing well, but needs to be in a crate she can't break out of (she knows how to break out of metal crate but does fine in plastic crates). She is doing well with potty training, she is coming along great with learning to walk nicely on leash, and she knows how to walk on the treadmill. Included in her adoption fee of $350 is her spay, her vaccines, unlimited boarding through Wasatch Canine Camp, and FREE group obedience classes through Wasatch Canine Camp ($250 value). We absolutely LOVE this dog and will be very picky about the home she goes to. Please contact Wasatch Canine Camp for more information:
801-735-1978
bbarnes@wasatchcaninecamp.com
www.wasatchcaninecamp.com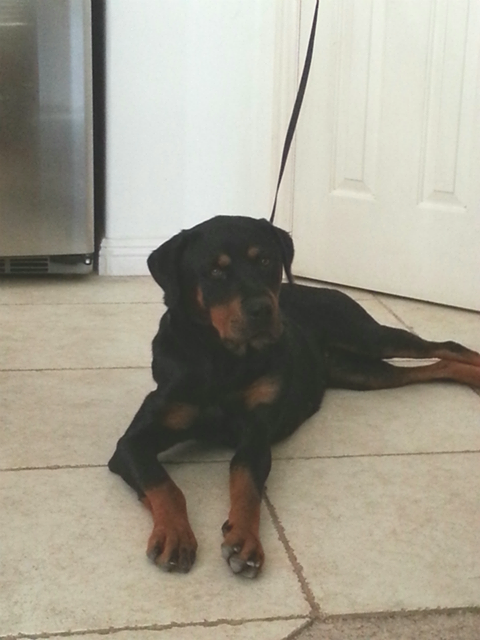 The following two tabs change content below.
Owner of Wasatch Canine Camp. Experienced, Professional, and Certified Dog Trainer.
Latest posts by Wasatch Canine Camp (see all)