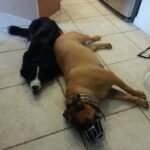 This is autumn, she is here for the day for an evaluation for dog aggression.  Took her about twenty minutes and then she chilled out and laid next to Luna on the floor. 

The following two tabs change content below.
Owner of Wasatch Canine Camp. Experienced, Professional, and Certified Dog Trainer.
Latest posts by Wasatch Canine Camp (see all)